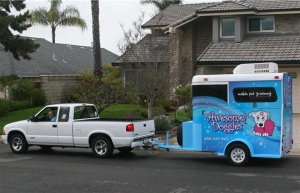 Full Service Pet Grooming: All Breeds Dogs & Cats
All dogs (and cats) agree: grooming shouldn't take all doggone day. Now you can get tender loving pet grooming, right at home. Most appointments take about an hour.
It doesn't matter if your dog's been frolicking in the mud, run into a skunk, or your cat has a nest of matted fur a rat would be proud of. Or maybe their breath is noxious, their nails are like daggers and they've left your furniture looking like it's grown a fur coat.
We've got your entire professional pet grooming needs covered, no matter what breed or size. Whether you've got a short fluffy darling like the Bichon, who has eyes for nobody but you, a Maine Coon cat that is willing to take on all comers, or a rugged 120 lb German Shepherd who loves to dig, chew and shed like mad.
Got a pet with arthritis, special health problems, or who is high strung (especially about baths)? All our groomers are trained in positive reinforcement techniques to meet your pet's special needs and earn their trust and cooperation fast. We guarantee you'll be happy with our results.
Call (858) 633-3641 | Email info@awesomedoggies.com
Click here to visit their website AWESOME DOGGIES MOBLIE PET GROOMING