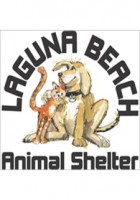 The City of Laguna Beach Animal Shelter was started in 1975 by a group of dedicated volunteers, The Pet Responsibility Committee (now PUP Laguna Beach), who lobbied the City of Laguna Beach to purchase the old Society for the Prevention of Cruelty to Animals building on Laguna Canyon Road for use as a shelter. Today, the shelter serves the residents of Laguna Beach and Laguna Woods by providing temporary care of sick, injured, and strayed or abandoned animals rescued by the animal services officers in the City of Laguna Beach and the City of Laguna Woods.
The shelter is funded by the City of Laguna Beach and supported by generous donations. Donations to PUP Laguna Beach fund the rehabilitation of our animals that require medical attention so that healthy pets can be put up for adoption. Donations are also used to help rescue dogs and cats. Please visit our Donor page for more information on how you can contribute to the future adoption of a pet.
At any one time, the facility houses dogs, cats, birds, and a small number of other animals. Every abandoned animal that comes through the Shelter is held for seven days for reclaiming by its owner. As a small community, the claim-rate is extremely high at 80%. We have been very fortunate to receive support from our community, the local veterinarians, the Pacific Wildlife project, the Bluebell Cat Foundation, and the citizens who appear with helping hands whenever there is a fire or flood in the canyon. We greatly appreciate the tremendous support from the community!