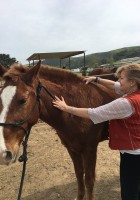 K9 Training and Horse Massage Therapy
meridusk9.com
Book a class now. Private or Group 10% OFF US MILITARY
Puppy classes — Obedience for All Breeds and Adult Dogs.
ESA training.
Puppy Classes- Obedience Training for All Breeds and Adult Dogs    619.734.9838
Cecilia Anastos has 20 years of experience training dogs without force and without painful methods. Cecilia's father was her first mentor on developing a leadership relationship with the dog in order to have a trusted companion that will follow cues at all times not out of fear but out of respect and love for its handler.
Cecilia is also an Equine Massage Therapist and Cavalletti Trainer. She has been working with horses since 1996 breaking ground with these techniques at the San Diego Polo Club. Using a combination of pressure/crosspoint massage, Feldenkrais method, and kinesiology movements, Cecilia turns your stiff horse into a pain free animal that will perform at optimum capacity. 
                                 BOOK A CLASS NOW!  PRIVATE OR GROUP
                                                      10% OFF for  US MILITARY  
Go to www.meridusk9.com for more information