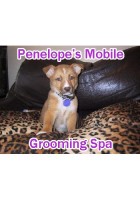 We are a full service grooming company serving the following areas: Beverly Hills, Culver City, Los Angeles (most areas), West Hollywood, Marina del Rey, Venice, Santa Monica, South Bay including San Pedro, and Rancho Palos Verdes.
We come to you with our own electricity, air conditioning, warm and cold fresh water. We do not plug into your home. Only high quality natural products are used. Special care is given to senior pets and those with medical conditions.
If you also adopted a dog or cat from a Los Angeles City Animal shelter, I would like to Thank You for doing the "right thing" and offer you $40.00 off your first grooming appointment. Whether you adopted a cat or dog, please show us your receipt from the Los Angeles City shelter.