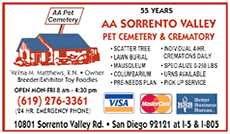 619.276.3361 (24hr emergency phone)
10801 Sorrento Valley Rd. • San Diego, CA 92121
The oldest (53 years) zoned cemetery in San Diego. Individual Cremations & Pick-up Services Daily (No Mass or Disposal Services) • Scatter Tree Area • Wall of selectable urns • Private family chapel • Viewings • Certified postal mailing • Burials • Columbarium • Mausoleum.
www.svpc.biz
Sorrento Valley Pet Cemetery (SVPC) offers the finest facilities for your cherished pet, whether it be a dog, cat, bird, hamster, rabbit, a "companion" or a "champion".
From elaborate to simple; calling our pet cemetery and you will find that we offer the following comprehensive services you want:
– 24/7 hour Emergency Service
– Afterhour Service
– Cremations
– Lawn Burials
– Mausoleum or Columbarium
– Pre-needs
– Scatter at Sea
Expect superior service and remembrance: Your experience should be about empathy and options; we also offer private views and numerous memorial containers and/or a Scatter Tree for eternal remembrance on our endowment protected property.
Sorrento Valley Pet Cemetery is the only permanently zoned pet cemetery in San Diego County.
Contact Info:
Phone: 619-276-3361 or 858-210-4790 (24/7 Call Back Service)
Fax: 858-623-0092
Email: info@svpc.biz