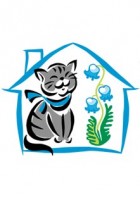 The Blue Bell Foundation (previously known as the Blue Bell Country Club for Cats) is a retirement haven for felines, currently home to approximately 50 cats. Set on 2 acres, we are a fully-licensed NON-PROFIT facility, which is a cozy cottage complete with an outdoor-enclosed patio. There is a separate building for special-needs kitties. Take a tour of our facility.
Some kitties are placed here because their human companions have died, or for various reasons, can no longer keep them. Otherkitties have been rescued as strays and sponsored. Many live the remainder of their lives here, but some are available for adoption.
Blue Bell provides an alternative solution to a traditional shelter, where theymay not be able to be readopted out. This is a home-like atmosphere where we provide a cage-free environment with cozy baskets for sleeping and high shelves for climbing, ahigh-quality diet, loving volunteers who visit, and veterinary care for prevention and treatment of medical needs. An added advantage is that former owners can visit their kitties at their new sanctuary.
In 1998, tragedy struck when a mudslide went through the canyon and Exterior Viewnearly destroyed Blue Bell. Miraculously, no cats died, however, they were muddied and had to be evacuated immediately. We were displaced from the cottage for four years, being temporarily housed in a property owned and generously provided for by the City of Laguna Beach. We returned to the newly constructed Blue Bell in 2002! This photo (and the one on the home page) is the rebuilt facility.