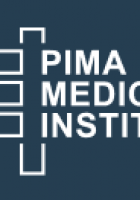 Pima Medical Institute   800-477-PIMA
 Veterinary Assistant & Veterinary Technician Training                                                        Check a local Campus for Program Offerings!                                                                        2 Locations- www.pmi.edu                                                                                     Chula Vista 780 Bay Blvd, Chula Vista, CA                                                                      San Marcos 111 Campus Way San Marcos, CA
VETERINARY TECHNICIAN PROGRAM
Veterinary technicians are animal nurses. They are passionate about animal care and are dedicated health care professionals who nurture the health and well-being of animals through specialized knowledge of animal behavior and care, surgical assisting, laboratory testing and nursing procedures.
As a veterinary technician, you will typically work under the supervision of a licensed veterinarian doing clinical work. This includes tasks such as performing various medical tests, and treating animals with medical conditions and diseases.
By going to school specifically for veterinary nursing, you will be qualified to work closely with veterinarians in the areas of surgery, lab procedures and radiography. Your work options are diverse: you may be in a clinic, at a wild animal park or with a zoo treating domestic or exotic animals.
The Veterinary Technician program at Pima Medical Institute includes courses that offer in-depth study in nursing skills, laboratory procedures, equine medicine and nursing, and livestock animals, as well as lab animal and exotic animal medicine.
The first sequence of courses will be taught in a hybrid learning system – a unique mix of online and classroom work that will serve as a solid foundation for the rest of your education.
VETERINARY ASSISTANT PROGRAM
A veterinary assistant provides compassionate medical care to all animals and promotes their well-being by performing multiple tasks under the supervision of veterinarians and veterinary technicians.
Our training program will teach you how to:
Provide preventative healthcare
Collect and prepare laboratory samples
Assist with small animal nursing
Assist with diagnostic imaging
Properly communicate with clients
Administer medications
Assist with surgery
Provide pre- and post-operative care
Keep medical records
Recognize animal behavior norms
Sterilize lab and surgical equipment
Understand pharmacology