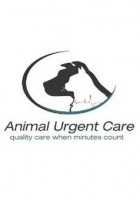 Animal Urgent Care was founded in July of 1996 to provide the best emergency veterinary medical and surgical services for companion animals in inland north San Diego County. The clinic is owned, managed, and operated by Dr. Karen Seibold, DVM, a Diplomate of the American College of Veterinary Emergency and Critical Care, and her husband Christopher Read. The practice was relocated into a state of the art facility in April 2003.
Animal Urgent Care is centrally located in the heart of inland North County at 2430A S. Escondido Blvd. in Escondido, CA. Situated one exit north of the Westfield North County Mall at the junction of Centre City Parkway and Citracado Parkway. The location is quickly accessible via I-15 and the 78 freeways for the communities of Escondido, Fallbrook, San Marcos, Rancho Bernardo, 4s Ranch, Carmel Mountain Ranch, Rancho Penasquitos, Poway, as well as from the east thoroughfares from Valley Center and Ramona.
Animal Urgent Care is the longest established dedicated 24 hour emergency and critical care veterinary facility in North San Diego County, providing medical emergency and surgery for dogs and cats, 7 days a week, 365 days a year.