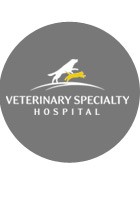 The Veterinary Specialty Hospital of San Diego (VSH) is proud to provide the highest quality specialty care to pets, and the highest customer service to owners in the San Diego community. VSH is truly a unique facility, with some of the most advanced equipment for pets found anywhere in the country. Simply put, we are committed to be leaders in providing the best quality specialty medicine possible for pets.
Our Hospital
Our three-story, 26,500 sq ft. hospital includes five treatment wards, eighteen exam rooms, two digital radiography suites, six operating rooms, and a state of the art ICU. We offer a full-service laboratory, joint replacement and orthopedic surgery suite, neurosurgery suite, and a complete oncology center, including medical and radiation therapy (linear accelerator and Cyberknife therapy). In addition, U.C. Davis nephrology/urology/hemodialysis, cardiology, pharmacy, and nutrition programs are on the premises.
Our hospital provides referral services in the specialties of dermatology, diagnostic imaging, surgery, ophthalmology, medical and radiation oncology, neurology, cardiology, and internal medicine.