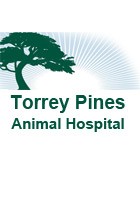 Torrey Pines Animal Hospital offers the very best in personalized, compassionate vet care for your pet. Our veterinarians have vast and varied experiences, and a friendly bedside manner, with the shared goal to provide state-of-the art medical pet care in a comfortable and clean environment. We can meet any need from basic veterinary care to major surgeries.
We take an individualized approach to the long-term care of your pet. Our approach is to establish a relationship with you and your pet and ensure good communication. We focus on the quality of life for your pet, and in our practice we do what's in the best interest of you and your pet.
Read about us in this Carmal Valley News article, or stop by and visit our new, technically advanced, full service medical facility. We're ready to answer any of your pet healthcare questions.